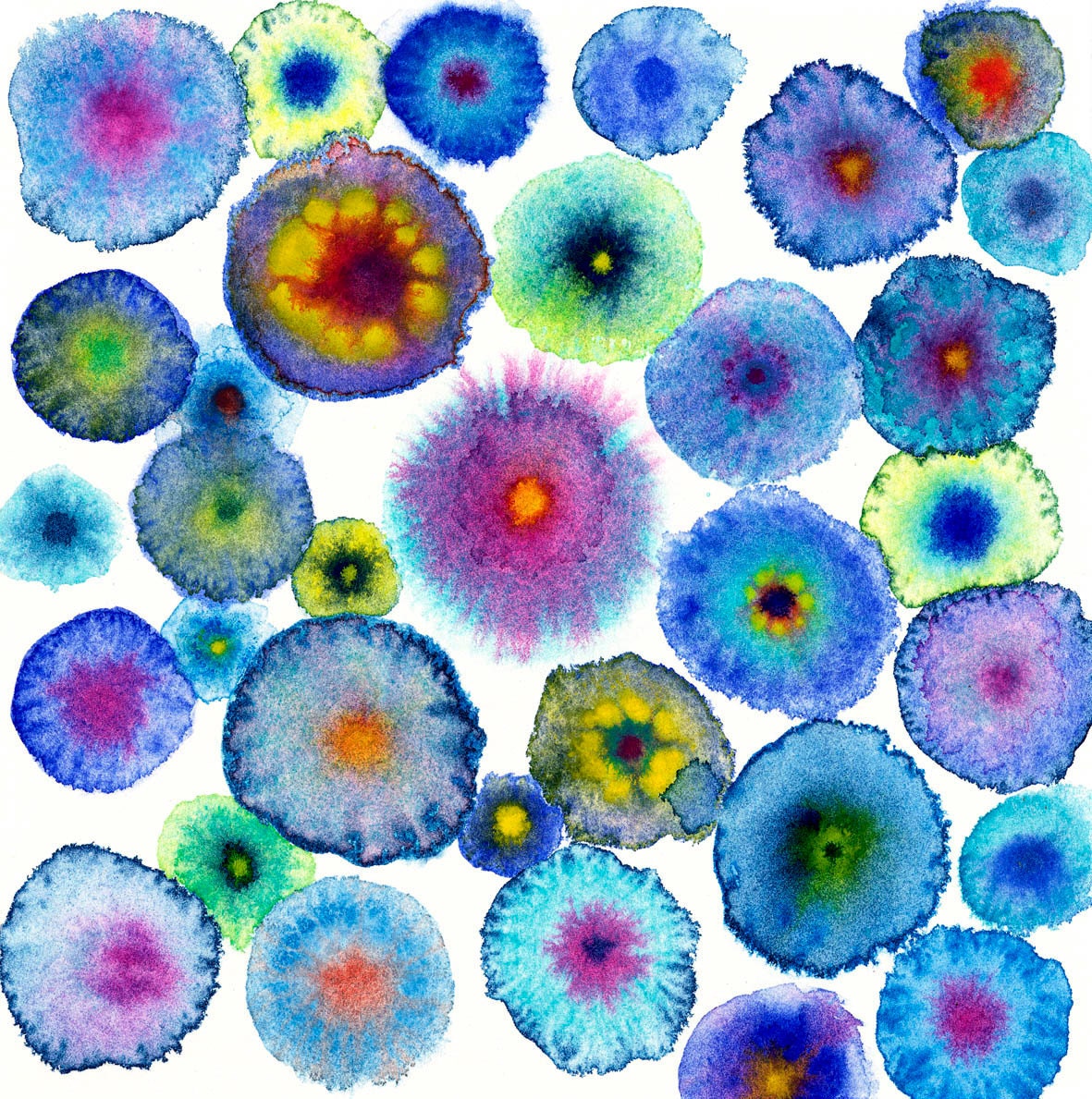 I've been seeing a lot of pretty floral nail art on reddit lately (probably as it's Spring in the northern hemisphere) and wanted to give it a try myself. As it was my first time free-handing flowers I looked far and wide for a uncomplicated floral print/painting to inspire me. I found this beautiful watercolour floral painting that looked adaptable to nail art on Etsy by
Ilse Bernthal called "Blooms 7 blue". Pretty huh? Clicking the image should take you to the store.
To get a water colour look I first spotted the polishes I wanted onto a plastic dish, and filled a little dappen dish with pure acetone. I then dipped a small paint brush in the acetone (natural hair as synthetic brushes can be dissolved by acetone), then into the polish and swirled the brush on the dish to get a 'watery' consistency (adding more polish or acetone depending on if I needed more pigment or to dilute respectively). I then painted swirly, circle-ish shapes that kind of look like flowers. Most of the flowers have 2 different polish colours (the second was used minimally around the outside of the circle/flower) and then an orange dot in the middle. I'm incredibly happy with how it turned out- I cant stop looking at my nails...I do wish I used a pastel blue as the background though.
Background: OPI Alpine Snow
Magenta: Sally Hansen Xtreme wear "Brick Wall"
Purple:
Sally Hansen Xtreme wear "Purple Potion"
Dark Blue:
Sally Hansen Xtreme wear "Blue it"
Periwinkle blue:
Sally Hansen Xtreme wear "Pacific Blue"
Turquoise:
Sally Hansen Xtreme wear "The Real Teal"
Orange:
Sally Hansen Xtreme wear "Sun Kissed"
These will hopefully be the last cell phone pictures I use! I ordered a proper camera today- hoorah!! This next picture is especially blurry, but the sun was going down and its the best picture I got of the right hand =(
I took another picture with better lighting a few days later :)
Thanks for stopping by :)